Investors
Company Profile
We are an integrated, growth-oriented energy service company serving (i) companies engaged in the exploration and development of North American onshore unconventional oil and natural gas reserves and (ii) government-funded utilities, private utilities, public investor owned utilities, or IOUs, and co-operative utilities, or Co-Ops, through our energy infrastructure business. Our primary business objective is to grow our operations and create value for stockholders through organic opportunities and accretive acquisitions. 
Our suite of services includes pressure pumping services, infrastructure services, natural sand proppant services, contract land and directional drilling services and other energy services, including coil tubing, flowback, cementing, equipment rental and remote accommodations. Our pressure pumping services division provides hydraulic fracturing services. Our infrastructure services division provides construction, upgrade, maintenance and repair services to the electrical infrastructure industry. Our natural sand proppant services division mines, processes and sells proppant used for hydraulic fracturing. Our contract land and directional drilling services division provides drilling rigs and crews for operators as well as rental equipment, such as mud motors and operational tools, for both vertical and horizontal drilling. In addition to these service divisions, we also provide coil tubing services, pressure control services, flowback services, cementing services, equipment rentals and remote accommodations. 
We believe that the services we offer play a critical role in increasing the ultimate recovery and present value of production streams from unconventional resources as well as maintaining and improving electrical infrastructure. Our complementary suite of services provides us with the opportunity to cross-sell our services and expand our customer base and geographic positioning.
 
Change
Volume
52 Week High
52 Week Low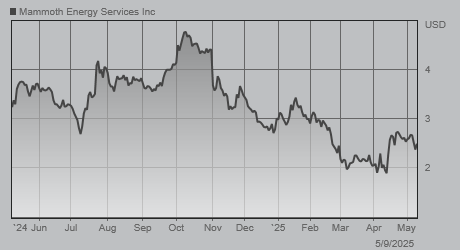 Data Provided by Refinitiv. Minimum 15 minutes delayed.
Latest News
December 1, 2021
November 18, 2021
November 16, 2021
November 5, 2021
Events
Jan 25, 2022 at 2:00 PM EST
Nov 5, 2021 at 9:00 AM EDT